Applications for Mobile
While the primary function of a mobile phone is for voice communication, we all know that the humble mobile phone is no longer so humble and actually comes fully loaded with a whole raft of tools. Generally most phones come bundled with a basic calculator, calendar and games. More sophisticated phones are now coming with far more sophisticated tools like video and photo editing programmes…
This page will provide a list of educational downloads that I recommend for your mobile phone to turn it in to a fully customised pocket tool - kind of like the swiss army knife of mobiles!
3G phones are now some of the cheapest mobile phones on the market - meaning that most of the new phones purchased today are web capable. However, in my opinion, the standard mobile web browser that comes pre-packaged with the phone is clunky and very difficult to use. My recommendation is OperaMini. A fantastic browser from Opera. You can also download the main Opera browser as your standard everyday browser on your computer and synchronise this with your mobile. Click here to try the live online simulator
Download here.


A quick and easy little 2-D barcode reader that allows you to create and distribute a code that when scanned by a mobile phone camera a range of information is presented, it could be an e-mail address, a web link, phone number or text information.
This great FREE little application turns your mobile phone in to a full graphics calculator. It is very impressive and so easy. Once again, you can choose to download it directly to your phone (which incurs your telco's data charge) or if you don't want to pay - or don't have a 3g phone, download it to your computer then send it to your phone via bluetooth or USB.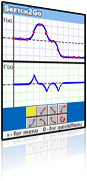 A suite of FIVE free applications - you can choose to download one or all. These applications provide a variey of graphing tools for viewing quadrilaterals and solving equations. I imagine that this would be a very inexpensive solution for mathematics teachers who might need a very specific tool for only a short amount of time in place of an expensive graphing calculator.
Another application that is FREE to download - simply type this URL into your phone's browser m.google.com/maps or go here to read more about it from your computer. Google Maps is an incredible piece of mapping software. It works out your location to within 1500m. You can get directions to a specific location, view places in a local area eg. restaurants, hotels etc and of course get directions to these places. The programme is free but does require a data connection to get the map information.